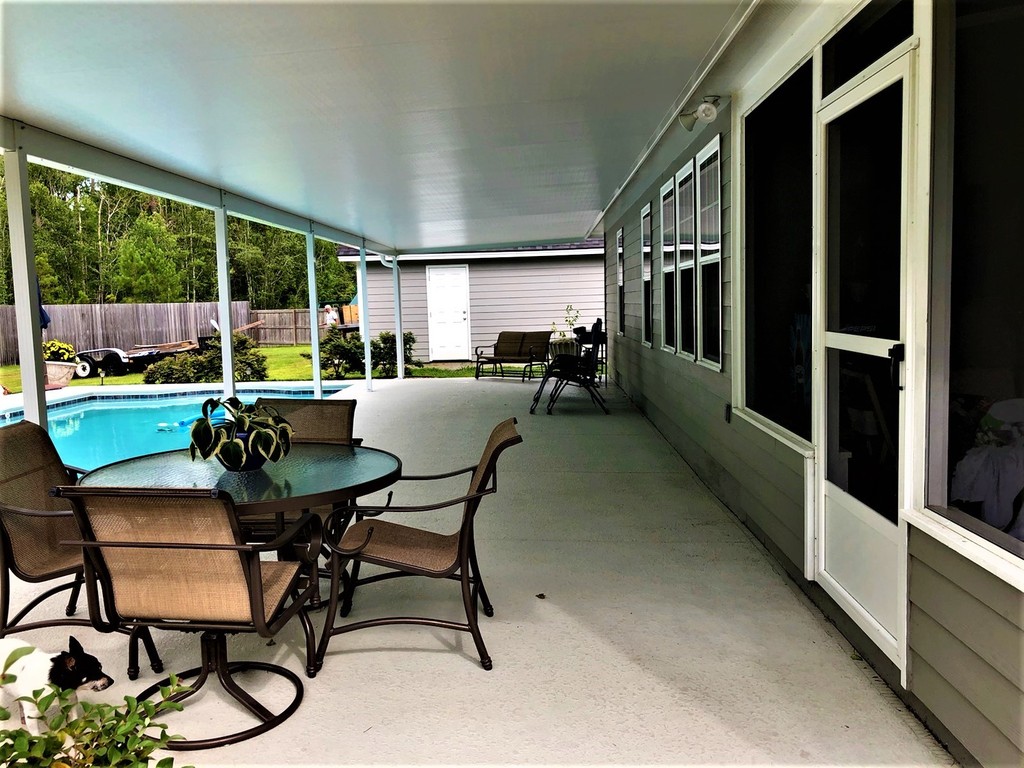 Carports and patios are common additions found around homes in Melbourne, Florida. A carport can provide usable outdoor space or be used as protection for your vehicles. With a patio, the space is easily enjoyed by family and friends as a gathering area outdoors for BBQs or lounging. With the Florida heat, the shade is essential for comfort. At Malabar Products, we can provide covers for your patio or carport areas, ensuring the spaces stay cool and protected from the elements.
Carports
We can install a carport that is free standing or attached to your home. The carport will have a laminated aluminum roof with insulation in a variety of thicknesses to ensure stability and protection. Posts and beams are used during construction and will be installed to meet span conditions. With our installations, gutters and downspouts are also included.
Additionally, we can provide a concrete slab or a driveway to provide a stable surface for any of our projects including carports. Posts of the carport will be anchored in concrete footers for added stability. With this installation, a carport will offer the shading and protection that you desire.
Use your new space however you like. Vehicles will have additional protection, helping to cut down on heat inside the vehicle as well as protect the body from the elements. Easily sit outside underneath your new carport and enjoy time with family and friends in this now shaded and more comfortable space.
Patio Covers
If you have an existing patio within your home, choose from a multitude of patio covers to provide shade from the hot Florida sun and make the space more comfortable. Our installations can be made to allow for screening in the future, which can help you get a jump start on screen room projects. A patio cover can be attached to your home or freestanding, depending on your individual needs.
The patio cover will have a laminated aluminum roof with insulation available in a variety of thickness. Choose the level of thickness needed based on protection needs. Posts and beams can be added to your patio space to support the cover and can be installed to meet many span conditions.
Once the cover is in place, you can easily begin to enjoy your covered patio space. An uncovered patio can become very hot and unusable during the summer in Florida. By adding a cover, your patio space can be used year-round as shading will be in place to cool the area as well as offer protection from the elements.
Whether you are looking to install a new carport or patio cover, Malabar Products can help. Our company has decades of experience with aluminum products and can easily help you find the right solution for your home. Our family owned and operated business has thousands of satisfied customers who are now enjoying their new covered spaces.
Contact our experienced associates today at 321-724-9966 to learn more about our solutions for carports and patio covers for your Brevard County home. We are happy to answer any questions you may have and access your property to help you find the best solution for your needs.