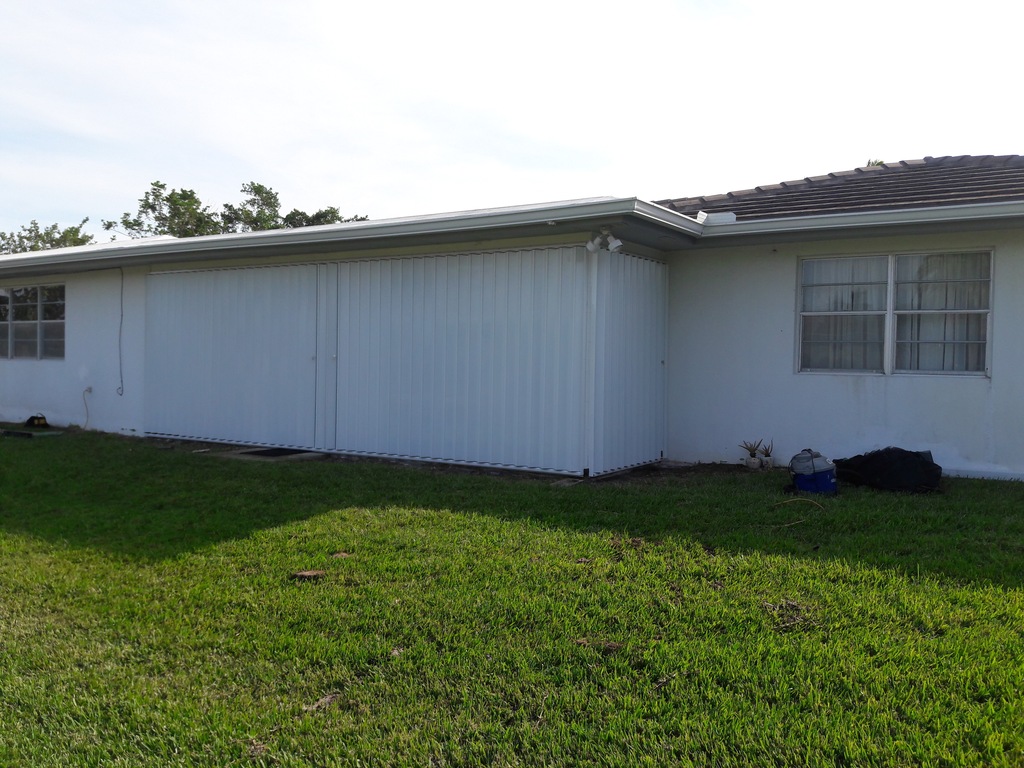 Every home owner in Florida is somewhat prepared for hurricane season each year. We make sure to purchase extra water, food and first aid supplies. Depending on where you live, the level of hurricane protection needed will vary. At Malabar Products, we strive to ensure that each of our customers is protected with a variety of options we can provide. From bahama shutters to accordian shutters and storm panels, we offer a nice selection of hurricane protection for homes throughout Melbourne, Florida and the surrounding cities. Get to know more about the products we provide below and contact us for more information.
Shutters
Accordion Shutters
For protection involving the windows of the home, accordion shutters can easily be installed. We provide installation on the outside of your dwelling, with quality features including simple operation and security. The shutters are permanently installed to the home so that there is no need to store them during the off-season.
Choose from a variety of neutral colors including white, ivory, tan and bronze, staying in line with the design of your home. The accordion shutters we provide not only offer protection from the elements, but it is also a second form of security for the home along with providing an energy saving solution.
Impact Bahama Shutters
Another shutter option we can provide is impact Bahamas. With this shutter type, we can easily install to your home in a permanent fashion, so they do not have to be removed. We offer a nice variety of color options so that you can find a type that matches the exterior design of your home. The shutters offer protection from the elements as well as provide shade for the home. This choice is considered architecturally pleasing to the eye, often chosen over the accordion style.
Storm Panels
For an affordable solution involving storm protection for the home, storm panels are the obvious choice. At Malabar Products, we can offer this inexpensive solution to ensure your home is protected from the elements. Choose from a variety of attachment hardware, with the panels providing an unobtrusive appearance when they are not in use. The lightweight aluminum panels are easy to store when not in use.
Impact Windows for Porches and Sunrooms

For the ultimate level of protection, impact windows are recommended. Offering 24/7 protection, the windows remain in place and provide a sense of security for your home. The installation of this window type is considered an upgrade and can instantly add value to your home.
Folding Awning- Not Hurricane Rated
Yet another option we provide, a folding awning, provides shade and rain protection, offering an added measure of comfort and security to the home with a choice of accent colors that will match the aesthetic of your home's exterior.
Contact our office in Melbourne, FL today to learn more about our hurricane protection solutions. We look forward to serving you!