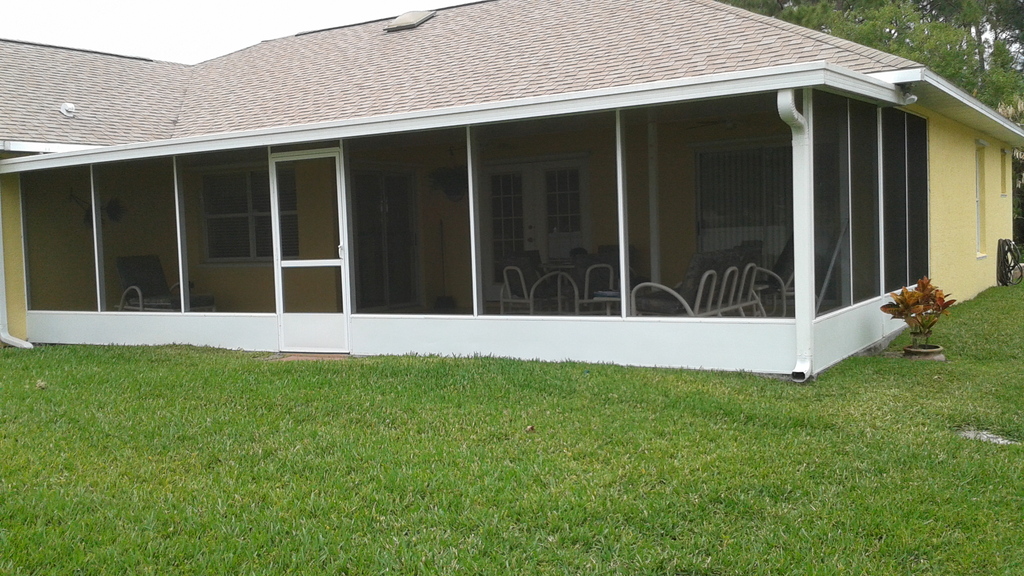 At Malabar Products, we specialize in creating custom screen enclosures in the Melbourne, FL area. We can offer your Florida home several options for the enclosure, helping you to enjoy the outdoors without being affected by the elements. Screen rooms, screen walls under an existing roofline, screened front entryways, and garage screen doors fit into this category of service. Let our experts help you find the right screen enclosure option for your home.
Here at Malabar, we let our customers in on the design choices. The possibilities are endless, with sliding screen panels, or screen walls under an existing roof. We also have options for screen mesh sizes offering the best airflow choices, more durable for pets, and options for different colors of mesh. Our customers have their choice of kick panel heights as well as finishes, with the option to insulate.
Concrete slabs and block knee walls are also an option when designing your room. All of our rooms can me made sun room ready, with window openings ready for window installation if you choose to do so in the future. Existing screen rooms can be upgraded with the removal of old screen walls and replaced with better quality materials. We can even outfit your home and screen room with hurricane shutters.
Screened Front Entryway
A screened front entryway is essential to function as well as protection. With a screened front entry, you will have a barrier in place to protect your family from nest building wasps and mosquitoes. We have decorative front entry options to complement the architectural elements of the space, with door and side light designs available for an added touch.
Protect your family from pests as well as unwanted guests with the welded security front entry system. We can custom manufacture any option that will meet your family's specific security needs.
Garage Screen Doors
Many of our customers also rely on garage screen doors to add more living space to the home. Adding a screen door to your garage can create a space for exercising, or allow you to work on your hobbies or home improvement projects, while providing you with fresh air and protection from bugs and other pests. The garage can even become a play space for the kids when it's too rainy to go outside. Our experts can help you find the right garage screen door for your home installation.
When it comes to screen enclosures, we Malabar Products has you covered. Contact our office located in Melbourne today to find out more about our screen enclosure solutions, or visit our showroom to see some examples of what we can do for you.